---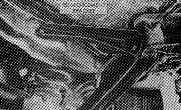 Rear crossmember reinforcement bracket, standard on some '66 Pontiac GTOs with manual transmissions. Strengthens frame and improves load distribution in the frame rear crossmember and lower control arm area. (Will fit my '67.)
(Click to enlarge.)
Scanned from Bob's Pontiac Parts catalog.
---
Automotive WAV files

| | | |
| --- | --- | --- |
| Possible wheels to be used for my project: | Cragar | Weld Racing |
---
'67 Cutlass/442s in the movies
Woody Harrelson drove a blue '67 Cutlass convertible in "White Men Can't Jump". Had a 455, E heads, single plane manifold and fading paint, but is solid and straight

In the movie 'Airheads', the main character (Brandon Fraser) has a girlfriend who drives a '67 442 convertible.

In Walt Disney's TV movie "Angels In The End Zone" you can see a '67 442 owned by Keith Forbes of Surrey, British Columbia, Canada.