Agent 442, "Gentleman Joe" Schubeck slips unobstrusively out of the gate at Bakersfield behind a smokescreen laid down by a thousand pounding horses.
After a show like the Hemi-Under-Glass, what do you do for an encore? If you're George Hurst, you sit in your Warminster, PA office, consider the problem and then defer to the inspiration of brain-truster Jack Watson, one of the Youth Market's hottest numbers, the Olds 4-4-2, and cram in , not one, but two, count 'em, two, blown/injected 432 cubic inch (remember the 425?) Olds -- one for the front and one for the back.
What expedient would you use for a drive train? Just the decade's mechanical breakthrough for the industry, that's all. The Toronado front wheel drive assembly. Stock? Almost. The right hand axle shafts were swapped for left handers because they are stronger, and then each torus was welded up in the torque converter which, by the way, is a variable pitch Hydra-Matic (3000 rpm, low angle; 4200 rpm, high angle).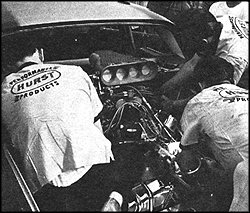 Better believe it takes a heads-up team to keep this minor miracle on its scheduled missions. Like the Hurst Performance crew, who get into their subject.
With in the neighborhood of 4000 lbs. aggregate on the four 9.50 x 15 M&H's, you've got to start playing power politics, so the Olds engines were pumped up with M/T rods and same family pistons set .228-inch down in the hole. The crank was Tufftrided, the mains grooved and clearanced to .004-inch; rods a thousandth less. Even under the pressure of a GMC 6-71 the engines didn't lose their heads, but the rockers were swapped for M/T mags restrained by 7/16-inch, high performance 289 Ford studs. Further along in the train, Isky worked up a set of special .190-inch longer-than-normal pushrods to use with the novel stud/rocker situation. And while he was at it, old Ed popped for the cams, retainers, springs (180 pounds closed, 320 open) and the keepers.
Bodywise, it's such a lovely chore for a light-hearted person to closely scrutinize the aluminum floor pan, fender wells, deck lid, seat and yea, even the bumpers. Better yet, dig in detail the integral frame/roll-cage assembly and reflect on the fact that it acts as a raditor for the 33 quarts of water coursing through its channels. Oh boy, too much! And it's none too good for its driver, the man himself, "Gentleman Joe" Schubeck, whose fuel dragster action is on the record as formidable.
What a car. What a combination...And now for your pleasure, ladies and gentlemen, and edification...the Hurst Hairy Olds. Music maestro.
(Click images below to enlarge)