Production of the 442 was up slightly in 1967 to 24,829 (topped by 16,996 hardtops). Five different bodystyles would be equipped with the 442 option this model year. Not surprisingly, almost two-thirds of the buyers selected the four-speed transmission. There was also the W-30 higher-performance version of the 442 (only 502 produced) which included a cold air induction package and hotter cam. The 1967 forced-air version was similar to the 1966 version, but the scoops were moved around the top and bottom of the front turn-park lights. That is, the scoops were wrapped around the lights and gave the impression of a small scoop above and below the front turn lights. (For more information about the W-30 option, go to the W-30 page.)
During this year, the 442 W-30 got the now-famous red plastic fenderwells -- the first time Oldsmobile would use them. It wouldn't be the last time they would be used, however. All the W-30s from 1967 to 1971 sported the red fenderwells. They were discontinued on the W-30 option after 1971.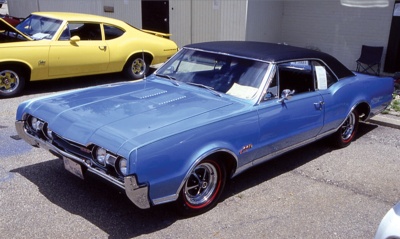 This is a highly unusual and very rare piece. Itís a 1967 Cutlass 4-4-2, one of four modified by Hurst to sell Oldsmobile on the Hurst/Olds concept, and powered by the 455-cu.in. four-barrel Toronado engine. This gem belongs to Douglas Alsip of Cincinnati.
The 442 for 1967 was beginning to gain a distinctive look with a unique grill embedded with a 442 emblem. The characteristic '66 fender scoops were gone for this year, but the model did sport pinstriping on the doors and fenders. The look was set off with red-line tires.
The tri-carb setup was officially gone for 1967, but the 440-ft/lb. of torque and 350 horsepower four-barrel engine remained in place. The powerhouse mill was still perking at a 10.5 compression ratio with hydraulic valve lifters.
Also, powertrain upgrades allowed the awesome engine to operate at much greater efficiency. A special Turbo Hydra-Matic transmission, a stronger twelve-bolt rear end and F70x14 wide ovals made the 1967 442 a street performer of the first order. The automatic outsold the four-speed for the first time (13,528 to 11,381).
The 442 was also starting to turn heads on the national drag strips in 1967, and set a B/Pure Stock national record.
Even though the 442 was working on achieving a muscle image, an interesting economy option was offered in 1967. The Turnpike Cruiser option (L-65), used a two-barrel carb, a conservative transmission, and an altered rear-end gear ratio. The popular option provided greater economy with just a minor decrease in power. Horsepower was down sixty ponies, with only a 15ft-lb drop in torque. It was a nice combination of performance and economy. As with the tri-carb setup in 1966, the 442 name stayed the same even though it should have changed to 242 to be totally correct. In its February 1967 issue, Motor Trend rated the economy version above the standard four-barrel model. (For more information about the Turnpike Cruiser option package, see the Options page for a listing of the features package or visit the Media Reports section for vintage road tests.)
Notes: