"Owners buy 'em for looks, love 'em for handling, power and performance --
but, like owners of big V8s everywhere, complain about paying for petrol."
IT'S SOMETHING LIKE "Fly now, pay later." After zipping away from lights, cruising down super highways at 70 mph and generally getting anywhere swiftly and effortlessly, naturally you have to fill up that huge gas tank -- and there goes another seven bucks.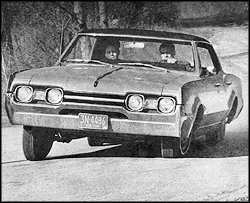 HANDLING IS RIGHT UP AT THE TOP of the list of owners' specific praises for their 1967 Oldsmobile Cutlasses.
We all hope to get something for nothing, and Cutlass owners are no exception. They've got plenty of praise for pep and power but chief gripe is economy. But it's not the car; it's the owner!
Car owners everywhere will be singing the same sad song for as long as we have internal combustion. Some day, when we drive our charged Chargers, electric Electras and fuel-cell Cutlasses, the lyrics are sure to change to the miles-per-charge lament and the new-battery blues. In short, we're all looking for the fabled perpetual-motion machine that never needs nuttin'.
Mileage figures averaged from reader replies show the Olds's engines no better or worse in fuel consumption than other Detroit engines of comparable displacement and horsepower. In spite of this, the greatest number of Cutlass owners are down on the economy of their car:
"Uses more gas than I had figured on." -- Arkansas clerk.

"Poor mileage for gas -- and oil." -- Mississippi chemical engineer.
And so it goes with only a few exceptions. A West Virginia scientist, who may be working on a perpetual-motion machine in his lab, can nevertheless appraise his economy with objectivity: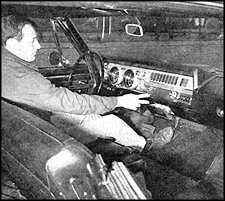 COMPLAINTS about dashboard refer to placement of controls and switches. Also, as pointed out, smokers burn padding due to narrow access to ashtray.
Before the Cutlass owners who cooperated with PM in returning our questionnaires take offense at our seeming indictment of their complaints, let's justify their sometimes paradoxical answers. The fact that an owner can boast about his car's performance, then in the same breath complain about his fuel consumption; or brag that his car is "...a tough beauty" and then top his list of complaints with gripes about workmanship and rattles, says something about the people who are buying new cars and also pays compliment to them.
It shows that car buyers today are demanding that Detroit live up to its slogans. If "Body by Fisher" is a mark of excellence, then a GM car should not develop rattles fore and aft the first time it hits a pothole. If quality's "Built In..." then an owner should not have to plague his dealer to get this fixed, that repaired and so on.
Owners are aware of the technological competence that can squeeze out more and more horsepower per cubic inch each year, and they are demanding that some of that ingenuity be devoted to corresponding gains in fuel economy. They are demanding a better and better car.
Cutlass owners' demands for perfection are found in the nature of their replies. Resoudning boasts and praise are often followed up by a small "but" that expresses dissatisfaction with details rather than with any overwhelming negative quality of the car.
"Great handling, performance, appointments, finish, ride, but needs quicker steering." -- Maryland civil servant.

"No trouble, quiet body and motor, wonderful ride, but could use a couple more inches of headroom front and back." -- Michigan real estate man.

"Drives better than any car I've ever driven. Does have some body squeaks I haven't had taken out yet." -- Oklahoma school teacher.
A West Virginia bank vice-president, on the other hand, can't think of any thing he'd like to see changed:
Maybe this enthusiastic bank VP isn't as demanding or discriminating as most owners, or he's actually one of the 23 percent who had no specific complaints.
Of those owners with complaints, 23.8 percent beefed about economy. Following economy were complaints about workmanship, rattles and finish, in that order and comprising 22.5 percent of owners. Workmanship got some loud boos from demanding owners -- several of whom were long-time Olds fans. A Rhode Island housewife was one of the more critical:
The complaints about workmanship are quite critical of factory quality control:
"I think the car shuold come from the factory with a more rigid inspection than mine for faulty transmission, for doors not fitting properly, dip stick too long, rear-end leak." -- North Carolina plant superintendent.
A Vermont office supervisor exclaims: "My rear door handles fell off three times!!!" A Kentucky technician simply and unexcitedly states: "Quality seems to be sacrificed for quantity." And the three Rs for a Maine schoolteacher are "rattles, racket and rumble"; she has nothing more to say than "shoddy workmanship".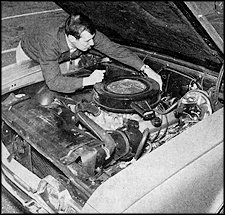 BEST-SELLING ENGINE with Cutlass is the 330-cu.-in. V8. Overwhelming 87.8 percent of owners specified the engine, the majority with 4-bbl. carburetor.
"Body by Fisher rattles." -- Kentucky mathematician

"Loose nuts and bolts all over." -- Louisiana industrial engineer
Other owners feel that they're not getting the paint that they're paying for:
"The paint is thin -- has already chipped badly." -- Kentucky lab technician.

"Poor paint job." -- Air Force man
Although style is the number one reason for buying Cutlasses, owners' number one specific praise of the car is its handling. Of the 56.9 percent of owners who felt this way, many said that the Cutlass was the easiset car to drive of any they had driven.
"It handles better in town than any car I have ever driven. Also surprised at way it holds the road." -- Arkansas housewife.

"Excellent maneuverability; instant response." -- U.S. Army major
Owner enthusiasm about handling is only slightly dampened by the six percent of complaining owners who commented unfavorably about the lack of "traction".
Rear end of the car is too light for driving on wet roads or snow." -- West Virginia traffic engineer

"Lots of swaying if car is loaded and it's windy." -- Maine specialist
Nevertheless, the Cutlass's inherent handling characteristics come out well on the plus side. Hopefully, the owners who have specific praises for the car's power also rate high themselves in handling ability: They're doing a lot of passing:
"I like the pickup when passing, even in fourth gear." -- Maine mill worker

"It's got plenty of passing power." -- Missouri businessman

"Passes fast, never balks." -- Colorado coed
Fast it is, and faster yet for those with the 400-cu.-in. V8. But owners actually rate Cutlass comfort a shade higher than power in their overall praise. True, number one on the list of what they'd like to see changed is the limited headroom front and rear, but, regardless, the verdict is it's a comfortable car.
Part of the comfort, especially for rear-seat passengers is the fact that the rear end is not cut off shor, as is the vogue for the "sport" look. A Louisiana clerk expresses the appeal of the new Cutlass:
"I like the styling and the semi-sport lines." (Italics ours.)
His opinion is backed by a Missouri manager who probably pinpoints what "style" means a a major sales factor: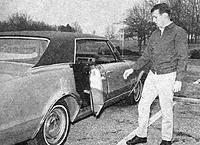 "IT'S A SOLID LITTLE CAR" was a prevalent attitude in reader replies, despite complaints on workmanship, rattles and finish which followed economy gripes.
This owner is right in the young family age bracket, the group that's doing more signing on the dotted line for the Cutlass than any other age group.
One owner in this group -- a garrulous Massachusetts draftsman with two children -- confided his technique for having his Cutlass and family harmony too. His wife talked nothing but new station wagons. So he proceeded to ogle his first love -- miniature foreign sports cars -- every time he and his wife were out together. Then, with the family battle at high pitch, he nobly suggested a size compromise. Now he drives his Cutlass with "...a sneaky smile and my old, worn, sportscar driving gloves."
What a man won't do for the wheels he wants!