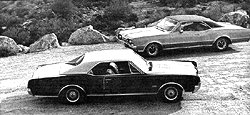 Although the 4-4-2 had the standard-for-automatic 3.08 rear axle, a fairly high-speed ratio, its engine sounded comparatively busy upon switching from the TC car with the 2.41 axle. At 65 mph the TC engine is churning over at a relaxed 2200 rpm while the 4-4-2 cranks out nearly 3000 at the same speed.
Without hesitation we rate the TC-packaged car above the 4-4-2 as an all-around road car for this reason. This goes for all kinds of roads -- not just turnpikes -- because with an identical suspension, it gives away nothing to the 4-4-2 in this department.
Well, maybe it's tops in general roadability, but what about digging out and passing? This is where even the carwise, having merely read the specifications, might be tempted to dismiss the TC setup as just the ticket for Mom and Dad or maybe Aunt Genevieve, but not for himself. Far from being a slug, our TC test car gave away only 1 second and 6 mph to the 4-4-2 in the quarter and hacked 0-60 in less than 9 seconds -- performance not likely to bore anyone.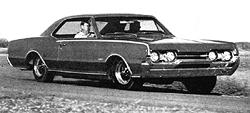 Near neutral cornering characteristics of 4-4-2 suspension allow precise control.
As can be seen from figures in the spec table, the real clincher for the TC package is the excellent gas mileage it gives, which favorably compares with that of smaller, less powerful V-8s and 6s installed in much lighter cars. A typical example of its performance in this respect versus the 4-4-2 is when we gassed up after driving both cars over the same stretch of highway for a distance of 213 miles at approximately 70 mph. The 4-4-2 took 16 gallons to fill while the TC car required only 13. Premium fuel (which the TC engine requires, too) happened t cost 42 cents a gallon at that particular location. So you can readily imagine the savings on an extended trip.
Olds hasn't made one available yet, but a lower-compression-ratio, regular-fuel engine would make an attractive option. While not recording quite so spectacular mileage figures, the 5- or 6-cent cheaper price of regular gasoline would permit a further 10% cost saving.
A brief look at some of the technical factors involved might provide some insight as to why such a large engine in a fairly heavy car driving through a high-speed rear axle yeields this kind of economy. Simply stated, such a combination reduces frictional and pumping losses, making more power available to drive the car. Frictional losses -- the power required to turn the crank on its bearings, scrape of the pistons rings against the cylinder bores, etc. -- increase as the square of the rpm. This means that when rpm is reduced by one-half, the frictional loss is reduced to one-fourth its former value.