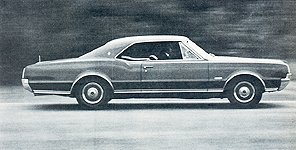 SURE-FOOTED BALANCE AT SPEED IS 4-4-2's FORTE. WIDE-OVAL TIRES, HANDLING PACKAGE, BEEFY DRIVE TRAIN IS THE WINNING FORMULA.
OLDSMOBILE HAS ONE CAR whose performance reputation has seeped out through General Motors' curtain of primness, and that is the 4-4-2. Basically the car is an F-85, but its ability to gobble up a lot of GTOs stems primarily from a 400-cubic-inch, 350-hp V-8 with 4V carburetion.
Due to what appears to be a policy decision throughout GM, it was necessary to discontinue the multiple carburetion option (triple 2Vs) offered in 1966, but by adding a Toronado cam and a little compression ratio, the horsepower cut was held to 10 and torque remained the same. It's still a 96-mph car in the quarter, and you don't have to bother with keeping three carburetors living happily together under the same hood, a continuing task that sometimes could try the patience of Job.
A new 3-speed automatic, called Jetaway but actually a Turbo Hydra-Matic design, is optional and Oldsmobile engineers claim that it will do as well as the 4-speed manual box that is also optional. Depressing a button converts the unit from automatic to manual operation in 1st and 2nd, and if you do a full-throttle start in DRIVE, you will be close to the redline before each shift.

115-IN. WHEELBASE, 204.2-IN. LENGTH AND THE GM "A" BODY'S CHARACTERISTIC FAIRINGS ON REAR WINDOW CARRY OVER FROM '66.
The car we drove had the 4-speed manual box with the delightfully-close gate typical of Hurst linkages which Olds uses. There was a suspension package and the Firestone Wide-Ovals which will be standard on this car in '67. In front of you is a satisfying set of instruments, thanks to a "Rally Pack" that fills former warning light space with a tachometer, clock, and a full set of engine instruments.
The F-85, Cutlass and 4-4-2 models all have roll understeer designed in -- 6% in front and around 11% at the rear. But because the 4-4-2 has a much higher roll stiffness rate, it is for all practical purposes nearly a neutral car. The figures here are about 10 degrees per "g" of lateral acceleration versus 8 degrees for the F-85. This is accomplished by stiffer springs, Wide-Oval tires, a larger diameter front stabilizer bar and the addition of a stablizer at the rear.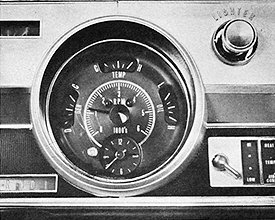 Olds engineers refer to this optional combination of clock and tach as the "tic-toc-tach". Package replace idiot light set-up.
Put in other words, the F-85 would probably be more forgiving to the average driver who inadvertently barreled into a turn at too high a speed, whereas a skilled driver could and probably does drift through the same turn in a a 4-4-2. It is worthwhile noting that the complete 4-4-2 performance and handling packages are available as option W-29 on Cutlass Supreme coupes and convertibles, and the handling package alone is available on any F-85.
We have wondered on these pages in the past why GM has delayed its introduction of the disc brake option. Olds general manager Harold N. Metzel has his own succinct explanation for at least Olds' share in this delay: "We still like the other (drum) brakes better," says Metzel. "We're just now satisfied with discs." So, with this left-handed compliment they are now being offered as an option on all Oldsmobiles. The intermediate cars use a Delco-Moraine design and there are smaller-sized cylinders on the rear drums to guard against premature lockup of the duo-servos there. Olds 88s and 98s offer Delco-Moraines also, but have a proportioning valve to cut line pressure to the rear during the period of weight transfer. A metering valve delays action of the four opposed pistons on the discs until 75 pis line pressure is reached, mostly as a precaution against dragging pucks. The Toronado uses a similar system designed by Kelsey-Hayes.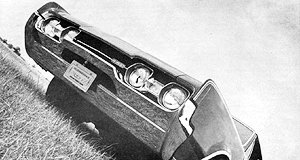 MASSIVE BUMPER IS COMMON TO ALL SMALL OLDSES, SHOULD GIVE GOOD PROTECTION. STRIPE ON FENDER IS OFFERED ON 4-4-2 ONLY.
We didn't get a chance to do any measured stops during our preliminary dring of the 4-4-2, but the discs certainly felt better than the drums on our '66 test car (MT, June) which took 170 feet to stop from 60 mph.
Among other items that couldn't be checked during this first brief exposure was the claim that the transistorized ignition system optional on the 400-cubic-inch engine would double plug life, but most of these systems have this capacity to fire a fouled plug long beyond the state where a coil and breker point combination would have given up. And the summer weather didn't allow us to find out much about the optional "climatic combustion" device which keeps intake air at a minimum 100 degrees Farenheit. This should be a fuel saver, and it should eliminate the need for anti-icing additives in the gasoline. We do know that it doesn't hinder performance.