While you could get a Hurst-shifted 4-speed or automatic in the 4-4-2, the most popular transmission choice was the excellent 3-speed Turbo HydraMatic. In 1967 Olds upgraded the 4-4-2 by doing away with the 2-speed Jetaway auto shifter and using beefed auto versions only in the 4-4-2 models. The unit used in the supercar had a special valve body resulting in higher rpm shifts, and the variable stator converter ratio was revised for greater low end (off-the-line) torque (1.9 high angle, 2.5 low angle).
If you ordered a 4-4-2 in 1967 with factory 3.42 or 3.91-to-1 final drive ratios you automatically received a special rear designated "A-Plus". The A-Plus axle had higher capacity differential side bearings and larger diameter shafts for increased torque loads. Instead of the traditional 27-spline axles, the big rears came with 31-spline assemblies. When you opted for G-80 Anti-Spin Rear Axle ($42.13), you got an all-new unit which would better handle the torque of the 400-inch motor even under drag strip conditions. It offered increased differential effectiveness thanks to simplified construction, new friction discs, better lubrication retention and overall longer life. The F-70 Wide Ovals were the best tires available at the time, yet were relatively useless on W-30 cars that were driven hard.
Oldsmobile did an excellent job of packaging the interior of its 4-4-2 using leather-like vinyl and nicely contoured bucket seats. The dash was Cutlass carryover, but there was a gauge option which also left a lot to be desired. It was called Rocket Rally Gauges ($84.29) and it grouped the tachometer in one cluster with amp, temp and oil pressure gauges plus a clock. It was just plain hard to read and you often found yourself shifting at 5:00 pm instead of 5000 rpm. A conventional Sun Tach could easily be fitted in the circular dash opening. A far better choice for a supercar.
Granted, the Olds 4-4-2 was more expensive than Chevy, Ford and Pontiac supercars, and in many cases not as quick or as fast. However, in the area of compromise, giving heavy points to ride and handling and quality appointments, the 4-4-2 was the hands-down winner. You could buy a loaded 4-4-2 for less than $4300 (list sticker price) and a W-30 car for under $4500. The W-30 Olds featured here was equipped with a 4.33-to-1 Posi gear set and when new produced 0-to-60 mph numbers in the high 6s and low 7s and 14-second quarter miles with trap speeds over 100 mph. It delivered between 8 and 12 mpg on cheap Sunoco 260 (really needed to nourish the 10.5-to-1 engine). These figures were recorded after the car was dyno tuned and fitted with colder Champion J-10-Y plugs. Even in off the floor stock shape, the Olds 4-4-2 was an outstanding street performer.
The '67 Olds Cutlass was the last of its body style and the 4-4-2 option was to be phased out as an option. The next year Olds gave the Cutlass an all new body style and the 4-4-2 became a real car, not just an option designation. Being the last of a series, the '67 Cutlass is entitled to "classic collectible" status. And, it's one collectible that's fun to drive.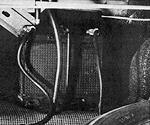 Because of routing the large diameter fresh air hoses through the engine compartment, the battery (left) had to be relocated in the trunk. The recommended mounting position was over the right rear wheel for improved traction.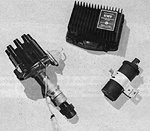 The UHV magnetic pulse ignition system (right) delivered a super hot spark, kept maintenance cost down and could fire cold drag strip plugs on the street. It even would fire fouled plugs. Amplified with finned housing mounted on the inner fender panel. It was a $100.05 option.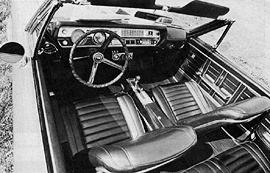 Unlike the lower end competition, Oldsmobile put a lot of money in interior packaging. High grade vinyl was used throughout. Non-stock items were wrapped steering wheel and extra gauges.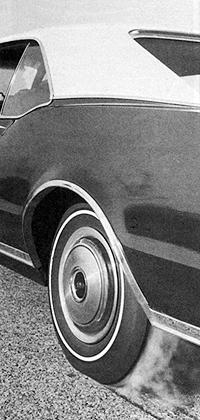 The hot tire tip in 1967 was Firestone Wide Ovals which came with the 4-4-2. However, there was lots of room for improvement in the rubber department.