The useful engine range with the test car's gearing is not 2000-5000 rpm as it is with normal high-performance gearing. It is 1000 rpm to not over 3000 rpm. The 3000 rpm figure represents about 65 mph in second gear and nearly 100 in high.
And, the engine is designed for mid-range torque, not top-end horsepower. This is not as complex as it sounds. Oldsmobile engineers accomplished this feat by merely taking a 400-cu.in. 4-4-2 engine, including the large valve heads and 10.5:1 compression, and installing a 2-barrel carburetion system and a special short-duration, low-overlap camshaft. The carburetor is the 2-barrel Rochester with 1.687-in. throttle bores that is used for many other 1967 Oldsmobile engines. This unit is mounted on a standard manifold. Venturi area actually is quite large for a 2-barrel carburetor, but this makes it a good compromise on breathing. However, the camshaft is the key. Intake duration is reduced from 286 to 250º, and from 286 to 264º on exhaust. Overlap is reduced from 58 to 36º, and lift is reduced from 0.435 on the special Turnpike Cruising package camshaft. Actually, the lift rates are high on the latter, because of the short duration. For this reason, Turnpike engines float valves at 4700 rpm, compared with 5100 for the 4-4-2.

Pulse generator replaces the conventional distributor in Oldsmobile's ultra-high-voltage capacitor discharge ignition.
CLICK TO ENLARGE
Special camshaft and carburetion systems completely transform the performance of the 4-4-2 engine. Advertised peak power is down from 350 bhp at 5000 rpm to 300 bhp at 4600. But peak power, as noted earlier, has little significance in the overall performance picture. The vital point of maximum torque is dropped from 3600 to 2600 rpm. The two torque curves cross at 2900 rpm. Thus it can be seen that the Turnpike engine develops greater torque at all speeds below 100 mph in high gear. Well down at 1200 rpm, 40 mph in high, the Turnpike engine delivers 390 lb.-ft. of torque, compared with the 350 for the 4-4-2. This makes a definite difference in throttle response.
The Turnpike Cruising Package, however, would fall on its face without a good 3-speed torque converter transmission. With the low axle ratio, it is as important to have a close-ratio kickdown gear for passing, as it is to have very high overall torque multiplication at breakaway for adequate standing-start acceleration. The Turbo Hydra-Matic low gear ratio is 2.48. Stall torque multiplication of the converter is 2.20:1 with the stator in low pitch. As overall breakaway ratio of 2.20 x 2.48 x 2.41, or 13.2:1, is the result. This produces rubber-burning starts and 0-30 mph acceleration within 3 sec. Of course, the switch-pitch feature of the transmission is very useful on streets and highways because a small extra surge is available without actually kicking down into the next gear; it's almost like having a 4-speed transmission. However, the Turnpike Cruising Package would be impractical with either a 4-speed manual transmission or the 2-speed Jetaway used in standard F-85s.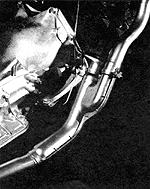 Warm air heater and duct supply preheated air to carburetor intake air temperature control unit fitted to Turnpike Cruiser.
CLICK TO ENLARGE
THE TURNPIKE engine includes another feature that contributes a great deal to fuel economy. This is the new "Climatic Combusion Control" air intake system, which is option No. K-50, available at $33.70 on all Olds V-8 engines. The system employs vacuum-operated valves in the air cleaner housing to mix warm underhood air with hot air from a muff around the exhaust pipe to maintain a constant inlet air temperature of approximately 100º F. Warm air arrives at the carburetor within seconds after a cold start. This, for all practical purposes, carburetor air temperature remains constant. The system offers several advantages, including close control of exhaust emissions to meet antismog laws. What helps overall fuel economy most, however, is that the carburetor can be calibrated for the constant 100º intake temperature. Normally, the carburetor must be jetted for the lowest underhood temperature in normal operation, which can be as low as 20 or 30º F in northern states. Tests who the difference in overall fuel economy is 0.75-1 mpg. Olds decided to include the air temperature control system in the Turnpike Cruiser Package to derive that last ounce of fuel economy.
Concern that hot carburetor air will reduce power on full-throttle acceleration is unfounded. The system is designed so the air valves close and admit only underhood air through twin snorkels when manifold vacuum drops below 6-8 in. Hg. Tests show the carburetor inlet air temperature drops from 100º to the underhood temperature (or close to it) within 2 sec. after the throttle is opened.
Heavy-duty 4-4-2 suspension components are a vital part of the Turnpike package. A relatively firm suspension always is more restful for long highway trips because less pitching motion occurs. Soft suspension is best at lower speeds around town. perhaps the most important ingredient is the increase in rear roll stiffness given by the rear antiroll bar in the 4-4-2 package. This keeps the rear end from walking from side to side in crosswinds. It also gives the car a more neutral feel on curves and lessens steering effort.