For the average do-it-yourselfer working at home in a small garage, air lines from the compressor are something not given a great deal of forethought, since most activities are not extremely air-intensive...that is, requiring a large volume of compressed air. For these people who might be occasionally using an air ratchet or inflating a tire or two, their portable compressor will work just fine and really require no additional planning. However, once you decide to really give your compressor a workout with a sandblaster, paint-gun or die grinder, the volume of air demanded by these tools require some rethinking in choosing an air compressor and how the air compressor's air lines are set up.
Choosing an Air Compressor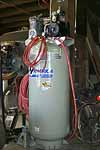 The most commonly-made mistake is the purchase of a compressor which is too small for the work to be done. In figuring what size a compressor you'll need, do some research. A 60-gal upright compressor with a single-stage pump and a 5½-hp motor might seem like the ticket (or even a little bit of overkill) for the home user, but when you start looking at the CFM (cubic feet/minute) this compressor is capable of, you'll see that most are rated in the neighborhood of about 10-13 CFM, which for the most part is inadequate for sandblasting or painting. This type of compressor (pictured at right) is about the best single-stage compressor you're going to find, but a dual-stage compressor (with two pistons) will not have to work as hard, minimizing heat and water buildup in the compressed air. For the financially-impaired, the single-stage compressor CAN be made to work adequately, however...providing the user take frequent breaks to allow the compressor to catch up and to cool off. If the compressor is running full time, it's too small and will burn up in no time at all.
One of my favorite quotes, and one I TRY to live by, says:
"It's better to have it and not need it, than to need it and not have it".
This is especially applicable with air compressor selection. Always buy more compressor than you think you'll need, because if you have it, you WILL use it.